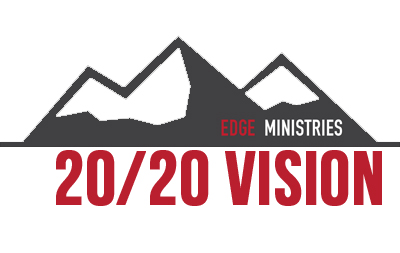 Click here for more information on our 20/20 Vision and how to get involved in helping to make a change.
Welcome
Thank you for connecting with us "Our Vision" and "Adventure" by visiting our webpage.
We have learned that we all have some things to share with each other to help one another on our journeys. We have asked ourselves some questions……Why? Who? When?
Why is because we feel a real desire to share our stories with others to strengthen their marriages. No one wants to end up broken, divorced, and alone. Every couple should invest into their marriage.
Who is anyone God puts in our path. Edge Ministries provides monthly programs, seminars, conferences, and coaching to help marriages avoid pitfalls that cause marriages to erode to the point of divorce.
When is now. Go to our Events page and register today for one of our culture changing events that helps you live in a marriage that is "Better Together by God's Design"!
We believe that our story, our history, is "His" story. We invite you to come along and stay as long as you like as part of our community.
We facilitate Intimate Marriage Refinement Nights and Weekend Refinement Experiences monthly, catering to 10 - 15 couples at each experience in order for each person/couple to receive the greatest benefit.
Sign up today so that your marriage can become "Better Together by God's Design" tomorrow.
Latest Articles
A Prayer for your Bedroom A short prayer to help you keep your bedroom consecrated to God's Design for marriage. Hebrews 13:4 (ESV) Let marriage be held in honor among all, and let the marriage bed be undefiled, for God will judge the sexually immoral and adulterous.
How to Stay Connected During the Holidays Happy Holidays Require Planning Communicate and Connect
Marriage is a Grand Adventure While writing this blog I came across several quotes about adventure. We have come to look every day for adventure. Some are small and just seem to show up as a sweet gift, other adventures we dream about and plan with many details.
Upcoming Events
February 21, 2019 - Edgy Women - Edgy Women Monthly Meeting
February 21, 2019 - Men on the EDGE - Men on the EDGE - Monthly Thursday Night Meeting
February 23, 2019 - Marriage Refinement Evening - Marriage Refinement Evening
March 9, 2019 - Marriage Refinement Evening - Marriage Refinement Evening
March 21, 2019 - Edgy Women - Edgy Women Monthly Meeting
March 21, 2019 - Men on the EDGE - Men on the EDGE - Monthly Thursday Night Meeting
March 22, 2019 - Men on the EDGE - Broken Bow Weekend - Men's Fishing and Golfing Event Co-hosted with Scope
April 25, 2019 - Edgy Women - Edgy Women Monthly Meeting
April 25, 2019 - Men on the EDGE - Men on the EDGE - Monthly Thursday Night Meeting
April 27, 2019 - Marriage Refinement Evening - Marriage Refinement Evening